Scott Grush and his Setter Grace with a grouse taken over a great piece of dog work.

Lee Sykes' Cocker Toby with Maine birds.

On left is Ruby, Chris Richards' 3 month old Field Bred English Springer.

Rusty at 7 months old with one his first Wisconsin Pheasant. Photo by Ryan Barbieri.

Decoy after a hunt in NE Washington. Photo by Bill Peabody.

Paul Bailey Brant hunting in the bay across from Atlantic City, NJ.

Art Yoder with English Setter, Reese during a jaunt through the popples.

Nicely engraved shotgun. Photo by Thomas Tutwiler.

Greg Hartman's Brit Maggie with a nice sidelock and a limit of wild Iowa pheasant.

GSP Harley on point. Photo by Dave Rose.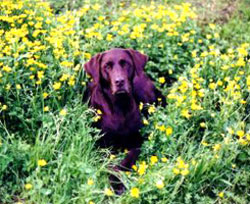 Mocha the Lab owned by William Reid.

The first pup raised by David Higley.

Two month old male English Springer Spaniel "Max". Photo by Tom Glidden.

ESS puppies from Terry Jacobsons 2003 litter.

Pete on point by Teresa Soule.

Ryan Shepard with 4 year old English Pointer Rocky.