David Perry's Llewellin Setter Scout.

Alan Briere with his 8 month old Brit Gypsy with her first grouse.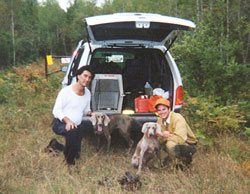 Lawren Casas with his Weims on a bird hunt in Wisconsin.

Jack Maloney's 8 week old Springer pup, Kerry.

Ron Provines with his Springer Tess.

Jaak Gilmore's Bandera with first bird retrieved to hand.

Grouse from Montenegro (ex Yugoslavia) by Mladen Zadrima.

Rob Hopkins with Josi and Aja and a nice grouse.

Kieth Miller's hunting partner Dover with results from Michigan UP.

John Kroll with his first grouse last year.

David Higley's 2 year old Setter Tessa.

Watson action and stock by David Higley.

Bob Ankney with his 12 week old GWP.

5 week old Elhew pups by Jim Beasley.